In early 1963, the CIA commenced covert SEAL operations aimed at ambushing supplies and snatch missions to locate and capture NVA officers. Poor intelligence plagues these early missions which on the whole were not successful. The SEALs acquired their own intelligence gathering and collation ability which led to intelligence becoming far more useful and being able to be used rapidly. This subtle change led to a dramatic rise in successful operations.
Commander Robert J Fay was the first SEAL to be killed in Vietnam by mortar fire on October 28th 1965. By the end of the war in 1972, another 45 SEALs died with Radarman 2nd Class Billy Machen being the first SEAL to die in in combat on August 16th 1966. Machen's body was recovered after a bitter firefight supported by two helicopters after his patrol was ambushed in daylight.
Initial SEAL deployment was around Da Nang training in combat demolitions and counter-guerilla tactics while becoming acclimatized to the operational theater. As the war escalated to all out conflict, the SEALs were operationally deployed to Rung Sat Special Zone and tasked with supply and troop movement disruption and carrying out river operations on the Mekong Delta.
Mekong Delta provided the practical basis for SEAL riverine operations to which the SEALs quickly mastered with highly lethal efficiency. Very quickly the SEALs and Brown Water Navy Boat Crews imposed themselves upon the enemy and caused a great deal of damage to enemy supply and troop movements earning the nickname Devils with Green Faces from the Viet Cong.
In such an operational environment killing was up close and extremely personal. Contacts being initiated at arms length requiring split-second reaction from non-combat patrolling to highly aggressive combat took place in split-seconds. The harsh training regime of the SEALs allowed them to quickly become adept at this style of warfare which contrasted greatly with the conventional battlefield tactics employed by regular combat units involving artillery and airstrike missions. The SEAL war in Vietnam was conducted face-to-face and frequently hand-to-hand. The SEALs became the most effective combat unit to perform guerrilla and counter-guerrilla operations of all the combatants no matter which side they were on.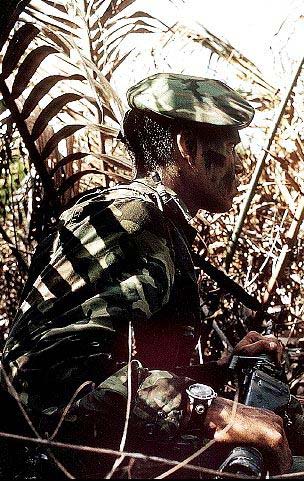 SEALs operated in Vietnam, Laos and covertly in Cambodia under the auspices of the Studies and Observation Group. Seal Team 2 tasked some elements to train and operate with South Vietnamese Commandos eventually forming Detachment Bravo (Det Bravo). Though this provided an excellent proving ground for cross-training unofficially, many SEALs did not rate their South Vietnamese counterparts highly.
President Nixon announced US withdrawal from Vietnam in 1970 and a Plan of Vietnamization was implemented which had as its objective the return of defense responsibilities back to the South Vietnamese. Despite US conventional forces being gradually withdrawn, SEAL operations continued at as fast and furious a pace as ever. Now based on the Ca Mau Peninsula, the SEALs constructed a floating firebase from 14 floating barges that were welded together. This provided
By 1970, the US decided to remove itself from the conflict. Nixon initiated a Plan of Vietnamization, which would return the responsibility of defense back to the South Vietnamese. Conventional forces were being withdrawn, however, operations of the SEALs continued. The SEALS had developed a new base at the tip of the Ca Mau Peninsula and created a floating base, now known as Seafloat, by welding together fourteen barges. Accessible from sea, it not only provided a secure firebase for offensive operations but also allowed operations and resupply by helicopters.
Lt. Melvin S. Dry became the last SEAL to be killed in Vietnam during a water deployment by helicopter as part of an aborted operation to rescue prisoners of war.
This Article is written by James Kara Murat